Seal or Sink Shaft Seal Repair Kit
First Aid Kit for Your Boat that Just Might Save Your Life
Check out this video of our Product.
Check us out on Scuttlebutt
Watch This Video to See Our Product in Action
Is it worth taking the risk of not having an SOS Onboard?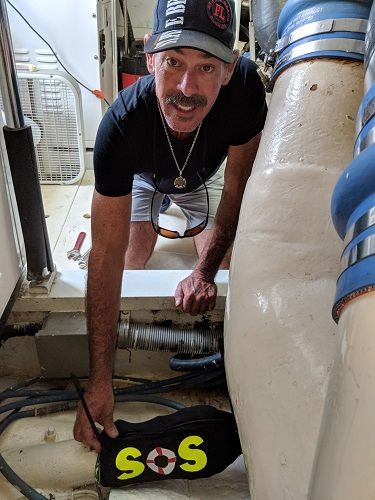 Three Simple Facts to Consider
Shaft Seals are one of the least maintained items on shaft driven vessels.
Boats that sit in Boat slips for extended periods of time are the most at risk. 
Once a shaft seal fails, the influx of water can quickly sink your boat if the bilge pumps are not able to keep up with the volume of gushing water. 
About SOS - Seal or Sink
EMERGENCY REPAIR FOR PROPELLER SHAFT SEAL LEAKS, HOSE LEAKS AND THE LIKE, PREVENTING THE CATASTROPHIC INFLUX OF WATER MIGHT SAVE YOUR VESSEL BUT MOST IMPORTANTLY YOUR LIFE!
Object of the invention is to provide a seal for a propeller shaft which will effectively seal the shaft to the shaft log (stern tube) in the event the shaft seal or bellows fails. Dripless shaft seals have become widespread in the past decade and a half, but when a dripless shaft seal fails, the resulting flooding is alarming at the very least, and potentially catastrophic. The goal for the device is to offer a solution to save a vessel from sinking in the event of a Shaft Seal or Seal Bellows failure. There are a number of manufacturers of dripless shaft seals and a variety of designs. Our product is designed to fit these as well as traditional flax packing seal systems.
Coming soon - SOS First Aid Kits with hose sleeves to contain hose leaks and and sizes for commercial vessels. Custom size shaft seals available for unique vessels. Contact SOS directly for volume discounts and Marina discounts
The SOS Boat Kit is available in the following packages:.
VIP Yacht Services
Capt Randy & Professional Crew are available for VIP Yacht Services – Experienced with discreet professional yacht services for VIP professional athletes, celebrities and public personalities. Contact us at 941-232-5760 for more information.